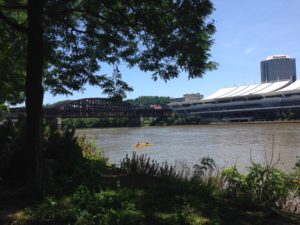 We all have dreams big and small. Some dreams are easily  attainable, some not so much.  I want to visit the Smoky Mountains in Tennessee.  This is something possibly I will do this summer.
But, then there are dreams which are little out of reach, but with some effort and planning I know I can achieve them. For example I want to visit Brazil.  I would like to go to Manaus and visit the Amazon Rainforest, spend a few days in Rio De Janeiro, go hang gliding, hang out at  Ipanema beach. Spend a few days in Pantanal. See Iguassu falls, before crossing into Argentina.
I have been dreaming about this vacation for a few years now, but for various reasons it has been eluding me. Meanwhile, when the urge strikes I do something which gives me a little taste of Brazil.  Sometimes I watch a movie set in Brazil, or visit the local churrascaria and sample the Brazilian cuisine. When that is not possible I just spend some time on internet reading about other travelers experiences in Brazil, which helps me live it before actually living it.
This strategy helps me keep my dream alive, and keeping the excitement going. This can be applied to any dream which is out of reach right now but you don't want to let it go. In hustle bustle of our daily lives we tend to put our dreams on back burner. Living them on a smaller scale helps me keep the right framework of mind to achieve my dreams. May be you want to own a fancy luxury car but have to wait for that to happen. You can rent one for a weekend and have the joy and the real life experience of driving your dream car.  It certainly works in your favor, especially, if you like to visualize your dreams, because it is so much easier to visualize something that you have already experienced.
A friend of mine loves to travel, but cannot do it as often as she would like, because she has school age children. Every couple of months she and her family drives a few hours to visit  some place where they have never been before. They eat at  local restaurants, check in a hotel for a night or two and drive back home  after exploring the new place a little bit, or catching a local event. She says that gives her a sense of adventure and the same feeling she gets when visiting a far away locale. That is a great way of pleasing the explorer in you.
Is there a dream that is out of reach for you right now? Is there a way you can live it on a smaller scale while you get there?